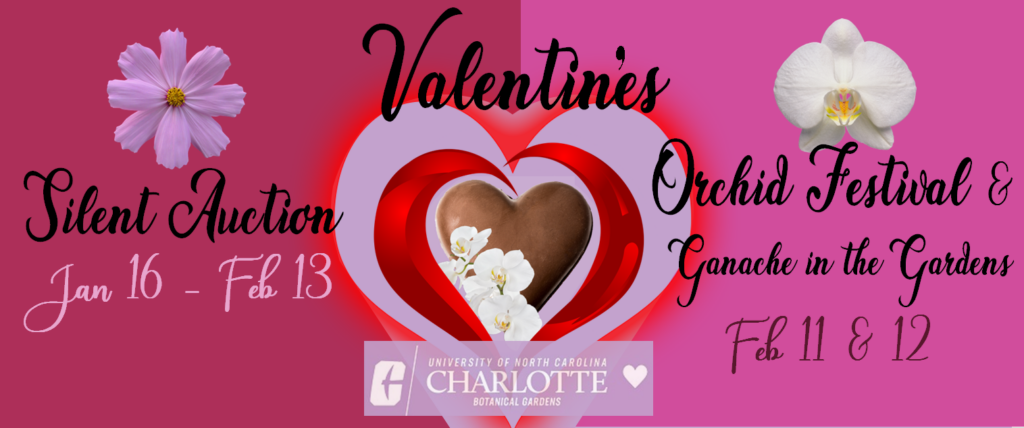 Valentine's is a special time at the UNC Charlotte Botanical Gardens! Our popular Orchid Sale event is returning to an IN PERSON format! This year's event is even bigger and better, with an entire Orchid Festival and our ever-popular Ganache in the Gardens planned February 11 & 12, including presentations, plant and unique book sales, arts and crafts vendors, a movie with popcorn, staff-guided tours of our orchid collection, and crafting opportunities!
This Year's Orchid Festival and Ganache in the Gardens will be held at the Cone Center at UNC Charlotte and parking will be available right next to it at the Cone Deck.
VALENTINE'S SILENT AUCTION is going on NOW!
This year's event will be at Cone University Center with selected events at the McMillan Greenhouse on UNC Charlotte's campus.
Event tickets include free event parking, and access to many presentations, vendors, and sales areas!*
Advanced Event Tickets: $5 (Free for Gardens' Members) – Advance Registration includes free single entry into raffle for members and those who pay entry fee.
Tickets at the door: $5 (Free for Gardens' Members and UNC Charlotte faculty, staff and students with valid University ID)
just a few of the items available at our silent auction!
At the event you can preview items available for bidding at our on-line silent auction as well as bid on items only available on-site!
* Classes (such as Orchid Care 101) and Orchid Collection Tours are not included
---
FREE Presentations (With Registration to Valentine's Event)
Native Orchids of the Carolinas
Bob Sprague of the Native Orchid Conference
2-3 pm, Sunday, February 12th, Cone University Center
In partnership with NC Native Plant Society Southern Piedmont Chapter
Zoom webinar
FREE
The Cacao Tree
Dr. Jeff Gillman, Gardens' Director
3 pm, Saturday and Sunday, Cone University Center
FREE
Chocolate Making
Esa Weinreb, owner and chocolate maker, The Underground Truffle
3:30 pm, Saturday and Sunday, Cone University Center
FREE
Movie & popcorn: Plants Behaving Badly: Sex and Lies
12:30 pm, Saturday and Sunday, Cone University Center
FREE
---
Classes and Tours
Mary Duke, Orchid Curator
10 am – noon, Sunday, McMillan Greenhouse Classroom
$30 / $25 for Members
Pre-registration required
Orchid Collection Tour
12:30 pm and 1 pm Sunday, McMillan Greenhouse
Additional $5 / free for Members
Pre-registration is required, space is limited
Self-guided Tour
2-5 pm Saturday and Sunday, McMillan Greenhouse
FREE, no registration required
---
Vendors
Open Noon – 5 pm Saturday and Sunday, Cone University Center
Hand crafted chocolates (vegan and gluten free)
Seeds of Eden
Curated collection of plant and garden resale items and books
Japanese inspired ceramic orchid and flower pots
Kitsune Creations
Handcrafted variety candles with unusual and interesting scents
---
Plants and flower arrangements available for purchase:
Open Noon – 5 pm Saturday and Sunday, Cone University Center
Orchids–many sizes and types for the beginning and intermediate home grower
Tropical Plants and ferns
Succulents
African Violets
Air Plants
Affordable flower arrangements of Gardens'-sourced plant materials