Jeff Gillman, Ph.D.
---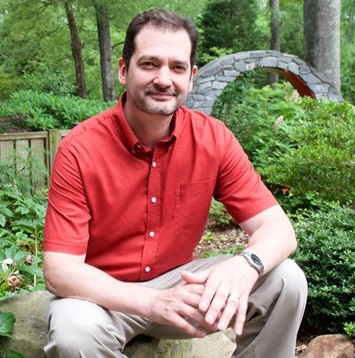 Jeff has a Master's degree in Entomology and a Ph.D. in Horticulture from the University of Georgia. He is the author of five books on gardening and the environment, a Contributing Editor to Fine Gardening Magazine, and has appeared on such shows as Martha Stewart and Growing a Greener World. Jeff teaches courses on Plant Propagation, Insect Biology, and Preparing the Garden for Winter among others. Jeff has been the Director of the UNC Charlotte Botanical Gardens since 2015.
Amy Tipton, M.S. Botany; M.F.A. Printmaking; BFA Drawing; BA Art History
---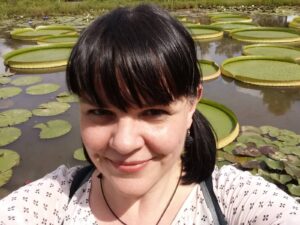 Amy is the Assistant Director of the UNC Charlotte Botanical Gardens. Her Masters in Botany focused on native plant ID and forest ecology, but also included many classes leading to a completion of an graduate studies "Option" in aquatic ecology. Amy holds bachelor degrees in Drawing and Art History, as well as an MFA in Printmaking. She enjoys botanical drawing. In addition, she enjoys learning about historical female botanists, ecologists and scientific illustrators.
Amy has taught for over 20 years. Some of her past teaching posts have included instructing drawing at Miami University (Ohio), art appreciation at Eastern Kentucky University, literacy in elementary schools with AmeriCorps, 7th grade science as a National Science Foundation Fellow, and ecology at University of Kentucky. She often presents talks for those interested in native plants–native plant societies, natural history societies, regional biology conferences, master gardener's functions, etc. Since her arrival at UNC Charlotte Botanical Gardens in July of 2019, Amy has taught Native Tree ID, Botanical Drawing I, and Botanical Watercolor for the Certificate of Native Plant Studies program. She is looking forward to teaching wetland plant ID, Botanical Drawing II, and forest ecology in 2020.
Denise Furr
---
Denise Furr is the Adjunct Curator of Malacology at the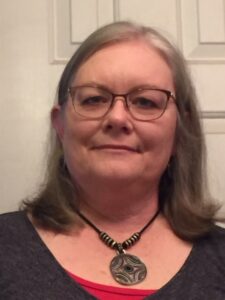 Schiele Museum of Natural History in Gastonia.
Malacology is the study of mollusks, and her current specialty is terrestrial species. She surveys public and private property for snails and sifts dirt to find the minuscule. As a result, she has encountered and learned many of the tiny fauna in the soil. Denise has a B.A. from UNC Asheville in Biology and Chemistry and is currently in graduate school at UNC Charlotte in Environmental, Ecological and Evolutionary Biology.
Don Boekelheide, MS Agriculture
---
Don's background in agriculture and education (he holds teaching credentials from K – adult) is a part of what makes him such a fascinating lecturer. He has trained with the Peace Corps, holds facilitator credentials from The American Gardening Association, and Landscape for Life through the Lady Bird Johnson Wildflower Center (https://landscapeforlife.org/ )which focuses on Sustainable Gardening practices, and has published in several outlets including Organic Gardening Magazine. While the majority of his focus has been on community gardening (he originated Mecklenberg County's Master Composter Program) he says "I want everyone to have a place to garden!"
Deborah Langsam, PhD
---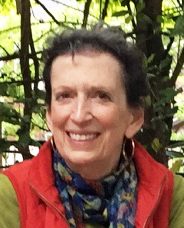 Debbie received her doctoral degree from Duke University with a specialty in the taxonomy of the lower fungi. Her interest in fungi began during studies for her master's degree in oceanography; a course in marine mycology introduced her to the fascinating shapes, colors, and textures of fungal spores and the role of fungi in aquatic and terrestrial environments.
Debbie is a retired Associate Professor of Biology at the University of North Carolina at
Charlotte. A winner of the NCNB (now Bank of America) Teaching Excellence Award, she
taught courses in Introductory Biology, Botany, and Mycology at UNC Charlotte for almost 25 years. She currently serves as an Adjunct Curator of Fungal Collections at the Schiele
Museum of Natural History. Her continuing interest in teaching finds Debbie working as a
docent with the Mint Museum of Charlotte. Her ongoing fascination with shape, color, and
texture has translated into post-retirement activities as a fiber artist.
Judith Walker
---
As an official 'bird nerd' for almost 40 years, Judy has taught about birds and bird watching to a wide assortment of people from preschoolers to senior citizens. Recently retired from the University of North Carolina Charlotte as a professor/education librarian, Judy's area of expertise has been in teaching STEM concepts to PreK-12 students and their teachers. Currently a Mecklenburg Audubon board member, her activities with the group include serving as president, presentations and leading many of their local field trips. Judy also participates in a variety of community science projects such as local Christmas Bird Counts; Great Backyard Bird Count (as both participant and reviewer), Spring Counts, Breeding Bird Surveys, and Project Feeder Watch. She is also an avid supporter of Cornell Lab of Ornithology's eBird program
Ed Davis
---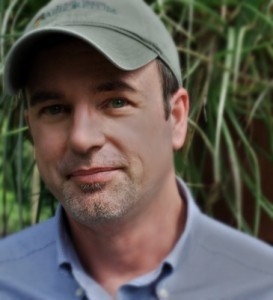 Ed is the Horticulture Supervisor of the UNC Charlotte Botanical Gardens. He received his Bachelor of Landscape Architecture degree at the University of Georgia and his Bachelor of Fine Arts degree in Painting from UNC Charlotte. Ed worked as a garden designer in Savannah, GA and Charlotte for over 35 years before joining the staff at the UNC Charlotte Botanical Gardens. His work at the gardens began when he was selected to be the lead designer and construction coordinator for the Mellichamp Natives Terrace. Ed shares his knowledge and work experience by teaching courses in Garden Design using Native Plants, Native Shrub ID, Developing a Carolina Pocket Meadow, Garden Pruning, Designing a Small Garden and Seasonal Garden Containers.