Become an Annual Steward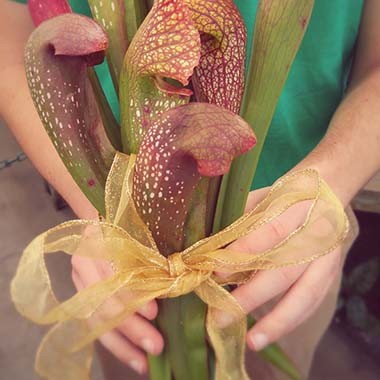 Stewards of the UNC Charlotte Botanical Gardens receive numerous benefits such as special plants, discounted educational programs, and early access to yearly plant sales, but more importantly, by becoming a Steward of the Gardens you are demonstrating your commitment to bringing the world of plants to the people of Charlotte and the surrounding region.
If you have visited the Botanical Gardens and come away refreshed, inspired, or even more prepared to start or improve your own garden, then consider supporting the gardens through membership. As a Steward you can take pride in knowing that you are supporting the gardens you love for yourself and future visitors. Through our membership benefits, supporting the Botanical Gardens can also help support your own garden.
Stewardship is tax deductible. Memberships last for one year.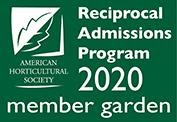 *NEW Benefit beginning 3/15/2020 –
We are now participating in the American Horticultural Society Reciprocal Admissions Program (RAP). Please see guidelines below.
Basic Membership $45/year
The Basic Membership allows you to be a Steward of the Botanical Gardens for less than $50. As a Steward with Basic Membership you will receive:
Discounted "At Home in the Garden" Workshops
Special Native Plant (distributed once a year at plant sale)
Early Access to Yearly Plant Sales and a 10% discount on purchases
10% Discount on Services performed by Bartlett Tree Experts*
10% Discount at local garden centers*
10% Discount at UNC Charlotte Botanical Garden Plant Sales*
Basic Family Membership $60/year
With Family Membership all members of your family receive all benefits of Basic Membership and free admission to family programs. For only $15 more than a Basic Membership, you can share your love of the Botanical Gardens with your family members at no cost. Since native plants are limited, only one Special Native Plant per family is given
Gold Membership $150/year
If you are fortunate enough to be able to show your love for the Botanical Gardens through a greater contribution, the Gold Membership can provide you with more benefits. The Gold Membership offers all of the Basic Family Benefits, plus 15% off at the Botanical Garden's plant sales, a private tour of the Gardens, and a free subscription to Fine Gardening Magazine
Green Membership $300/year
This generous contribution rewards you with Green Membership benefits. These benefits include everything that the Gold Membership offers, plus a book written and signed by either the Director or Director Emeritus.
Supporting Photographer Membership $150/year
For more information, click here.
| | | | | |
| --- | --- | --- | --- | --- |
| | Basic Membership | Basic Family Membership | Gold Membership | Green Membership |
| Discounted Educational Programs | ✔ | ✔ | ✔ | ✔ |
| Yearly Special Native Plant | ✔ | ✔ | ✔ | ✔ |
| Early Access to Yearly Plant Sales | ✔ | ✔ | ✔ | ✔ |
| 10% Discount on Services from Bartlett Tree Experts* | ✔ | ✔ | ✔ | ✔ |
| 10% Discount at Participating Local Garden Centers* ** | ✔ | ✔ | ✔ | ✔ |
| 10% Discount at the Botanical Garden's Plant Sales | ✔ | ✔ | | |
| Private Tour of the Gardens | | | ✔ | ✔ |
| Free Subscription to Fine Gardening Magazine | | | ✔ | ✔ |
| 15% Discount at the Botanical Garden's Plant Sales | | | ✔ | ✔ |
| One free book written and signed by the Director or Director Emeritus | | | | ✔ |
* — Valid membership card MUST be presented at time of purchase. Card must be presented to Bartlett Tree Experts prior to invoicing.
** — Valid membership card MUST be presented at time of purchase. (Please e-mail garden-membership@charlotte.edu if you do not have your membership card and we will send you a new card)
Dearness Garden Center, Ross Farms, Bird House on the Green, King's Nursery (5% discount)
---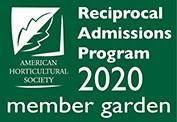 Guidelines for members of RAP institutions
when visiting other gardens
The following guidelines for members to enjoy the Reciprocal Admissions Program are also included in the printed RAP Guides and on the RAP website, www.ahsgardening.org/rap.

– We recommend that you call all gardens ahead of time before you plan your visit. Some gardens have exclusions for special events or exhibits, or if you live within 90 miles of the garden (see the 90-mile Exclusion below), etc. Each garden has its own unique admissions policies, special events, and hours of operation, which is also why we recommend checking ahead of time to get the most up to date information.

-Present your current membership card or proof of membership at the admissions counter or gift shop to receive the RAP benefit(s) listed for that garden. Each card will only admit the individual(s) whose name is listed on the card. In the case of a family, couple, or household membership card that does not list individual names, the garden must extend the benefit(s) to at least two of the members. It is at the garden's discretion to extend benefits to more than two individuals. Some gardens may require a photo ID.

-Remember that the gardens you visit rely on admissions and donations to maintain their collections and gardens for all to enjoy. Please support them by visiting their gift shops or making a contribution.

-Be sure to check each garden's listing to determine the benefits offered.

–The 90-mile Exclusion allows gardens to exclude members of other gardens within 90 miles of them from receiving their reciprocal benefit(s) unless the gardens mutually agree to lift the exclusion. For AHS members, the exclusion is based on their home address. Please contact the garden you belong to or the garden you plan to visit to inquire about this guideline.
---
Please contact garden-membership@charlotte.edu with any questions.