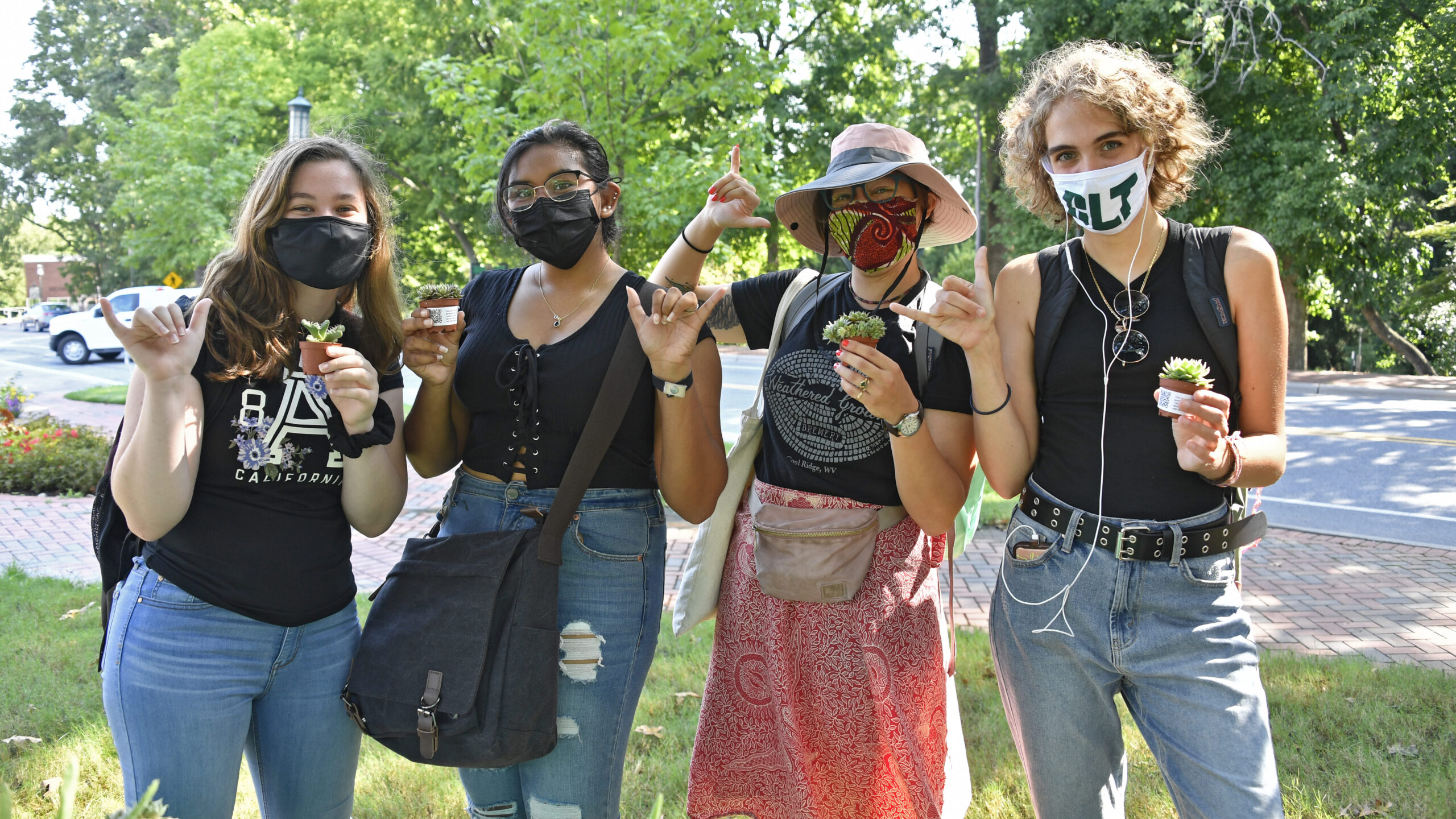 Welcome Niner Nation!
This page is designed to highlight some of the opportunities that the Botanical Gardens have available especially for members of the UNC Charlotte community, including students, faculty, and staff.
---
Using the Gardens: Tours and Reservations
Would you like to use the Botanical Gardens for research, student/staff or faculty function, meeting, presentation, project, or other purposes? Please fill out this form
If you are interested in scheduling either a self- guided tour or a guided tour (led by a UNCC Botanical Gardens staff member), please fill out the form below
---
Events

The Botanical Gardens offer free Gratitude in the Gardens meditative walks once a month. These walks are open to students, faculty, staff, and the general public.
Location: VanLandingham Glen
Cost: $10 per person per event, $5 for Gardens' Members and UNCC faculty/staff, free for UNCC Students.
---
The Botanical Gardens welcome new and returning students to the McMillan Greenhouse each August to explore what the Gardens and Greenhouse have to offer. Information about this year's event is below. Learn more about Gold Rush here.


---
Students, faculty, and staff all receive early access to our annual plant sales, and a 10% discount on Preview Day with their UNC Charlotte ID! Join our mailing list to make sure that you don't miss a sale!
Fall Plant Sale: October 5-7, 2023. Preview day is Thursday, October 5 from 12-4 p.m.!
Orchid Sale: The week leading up to Valentine's Day each year.
Spring Plant Sale: Early April each year.
---
See a full list of upcoming events at the Gardens here.
Visit
Other fun ideas for a visit:
Family in town? Bring them on a tour! Parents love the Gardens.
Have a photo shoot! Graduates love taking pictures under our iconic Moon Gate! Just make sure you're following our photo policies!
Go on a pollinator scavenger hunt!
and so much more! The Botanical Gardens and Greenhouse offer four season interest, so make sure to come back throughout the year. You can see a sample of what blooms in each season here.
PLEASE NOTE: Group tours and visits require advance registration.
Collaborative Opportunities
There are many ways that we have collaborated with students, faculty, and staff in the past. Here's a list of a few ideas of ways we can work together, and we are always open to new ideas!
Outdoor Classroom: we've hosted classes from various departments, from plein-air painting, to Shakespeare, to architecture, 3-d printing, sustainability, biology, and more!
Research collaborations: No better place for plant research than a Greenhouse!
Request a guest speaker: Our staff has expertise in botany, horticulture, agriculture, entomology, the plants we eat, evolution of food plants of the Carolinas and more!
Exhibit student's work: we love to incorporate student art in our Gardens!
Departmental events: How can we work together! Each Earth Day, we host an annual "Gardens and Verses" event with the English department. What fun project could we do with YOUR department?
Student organization events: Our classroom and gardens are also available for small student events! Contact us at botanicalgardens@uncc.edu to see if your event is a good fit!
PLEASE NOTE: Group tours and visits require advance registration. Click here to register:
Employment Opportunities for Students
The Gardens employ student workers as garden assistants. We accept applications on a rolling basis and hire each semester. For more information, contact Jennifer Bueno at jbueno2@uncc.edu.