**Click each section for more detail.**
---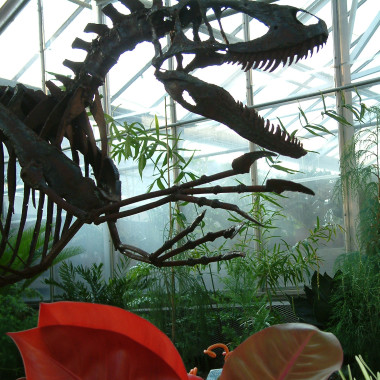 Hosting six themed collections, eight greenhouse rooms, terraces, surrounding beds, and a courtyard, the McMillan Greenhouse will show you scenes from across the globe and time. The Dinosaur Garden hosts living fossils and offers a view into prehistoric vegetation. The Carnivorous and Bog collection features native plants that prey on insects. Of those carnivorous plants, this collection includes Sarracenia hybrids that were specially bred by Dr. Mellichamp for unique colors, shapes, and patterns.
The McMillan Greenhouse also holds collections of Desert Succulents, Economic Plants, Orchids, and Tropical Plants. The Tropical Plants collection includes the Titan Arum (whose size, shape, and smell captures visitors), and many other exotic plants (both large and small).

---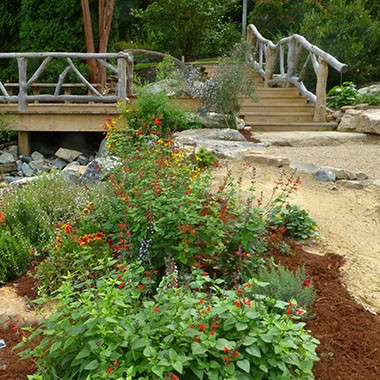 This outdoor garden is designed to inspire your own gardening. The Susie Harwood Garden showcases a wide variety of plants that grow in the Carolina Piedmont and different approaches to landscaping. This garden hosts winter-blooming plants. This is a beautiful wintertime destination that stays lively all yearlong. Stroll or sit awhile in the Asian Garden at any time of year to find tranquility and inspiration for your own garden.
The newest addition to the gardens, The Mellichamp Terrace, features a meadow and is accompanied with woodwork and hardscaping. Visit this meadow in bloom to experience this new addition at its pique.

---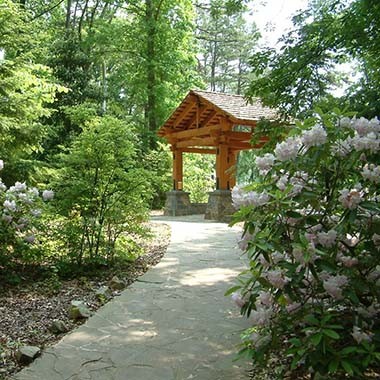 This is the first installment of the UNC Charlotte Botanical Gardens, and a true woodland garden. Van Landingham Glen features many beautiful Rhododendrons, which are the only exception to this all Carolina-native plants garden. If you want to walk through a calm, Carolina landscape, visit the Glen.
The Van Landingham Glen is also a respite from the busy university life that few campuses offer. This is the final resting place of the UNC Charlotte visionary and community leader, Bonnie E. Cone. Her resting place is a peaceful area to sit and appreciate her contributions to this university during its early, formative years, or to simply enjoy a beautiful day on the campus she helped build.

---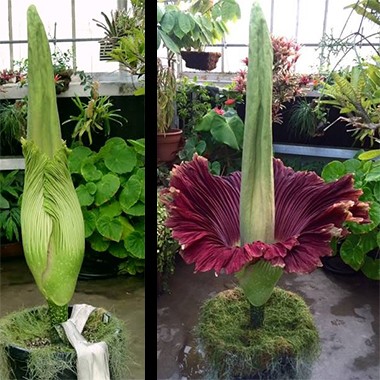 Bizarre, huge, confusing, and maybe even smelly; these are the common impressions guests have of our Titan Arum plants. The Titan Arum lives in the Tropical Plants collection of the McMillan Greenhouse, but it is a plant that captures attention all for itself. If you've heard of a strange, stinky plant that only blooms every 7-10 years–this is it!
We proudly home not just one Titan Arum, but two: Bella and Odie. Bella bloomed in 2007 and 2010; Odie bloomed more recently in July of 2015. Though their bloom a sight and smell to behold, they are spectacular plants to witness between bloomings as well. During this time, they resemble a tree, but its "trunk" is one giant leaf with smaller leaflets that look like their own leaves.

Polly Rogers, a Sophomore at UNC Charlotte, tragically passed away in May 2018. She was young, beautiful, and full of life. Polly was a member of Zeta Tau Alpha Sorority at UNC Charlotte and was studying special education in the Cato College of Education. She was warm and very caring to all who had the pleasure of knowing her.
Polly's family and friends, along with the UNC Charlotte community, are coming together to honor Polly's memory with a sensory garden which will be located in the Botanical Gardens at UNC Charlotte.
The Polly Rogers Sensory Garden, designed with children in mind, will engage and stimulate all the senses through plantings and interactive elements. It is a safe, therapeutic environment for kids with Autism and other disabilities, and is the perfect way to honor Polly who wanted to be a Special Ed teacher.
Click here to support this special initiative to honor Polly Rogers and help carry on her dream to create a therapeutic environment for children.
Garden Design