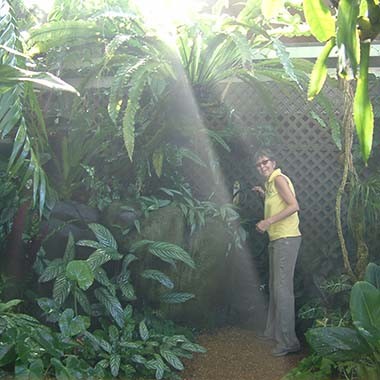 The beauty and inspiration of the Gardens exist for all visitors to enjoy. This is possible because of the dedication and care of the staff, but also because of the respect and awareness shown by all who visit.
Remain on the paths at all times.
Following this one cardinal rule will assure happy plants, staff, and visitors. Enjoy!
Please Do:
Take photographs or make drawings of the gardens, as long as plants are not disturbed. Photography sessions of people in the gardens requires advance authorization. Unregistered groups and photographers may be asked to leave. See requirements and registration information.
Supervise and remain with your children under the age of 14 at all times.
Gently touch and smell plants. Feel free to pick up fallen leaves, flowers, or seed pods that you find fallen naturally on the paths.
Enjoy the picnic tables and benches. Relax, enjoy and be sure to carry trash out with you.
Always use a leash and clean up after your dog while walking in the gardens.
Remain on the paths and leave everything else undisturbed.
The "Do's" cover it, but just for clarification . . .
Please Do NOT:
Throw GLITTER in the gardens or leave any other materials behind.
Climb on trees, shrubs, or rocks.
Pick flowers, leaves, or fruits from plants.
Block pathways or access to other visitors. When photographing, you may not "take over" an area or block pathways.
Dig holes, turn over logs or rocks, collect soil, or move/alter sprinklers or other equipment.
Wade or play in the pond or creek.
Run or bike anywhere in the gardens.
Take our labels or signs. Instead, snap a picture or write down any information you wish to remember.If you violate any of the Botanical Garden's etiquette, you may be asked to leave.
Special projects in the Gardens:
Students or faculty members interested in utilizing the gardens for projects and classes, please contact Jeff Gillman before you begin planning your project. We welcome creative and educational endeavors, but coordination is key. We look forward to working with you on making learning, art, and community grow at the Botanical Gardens!