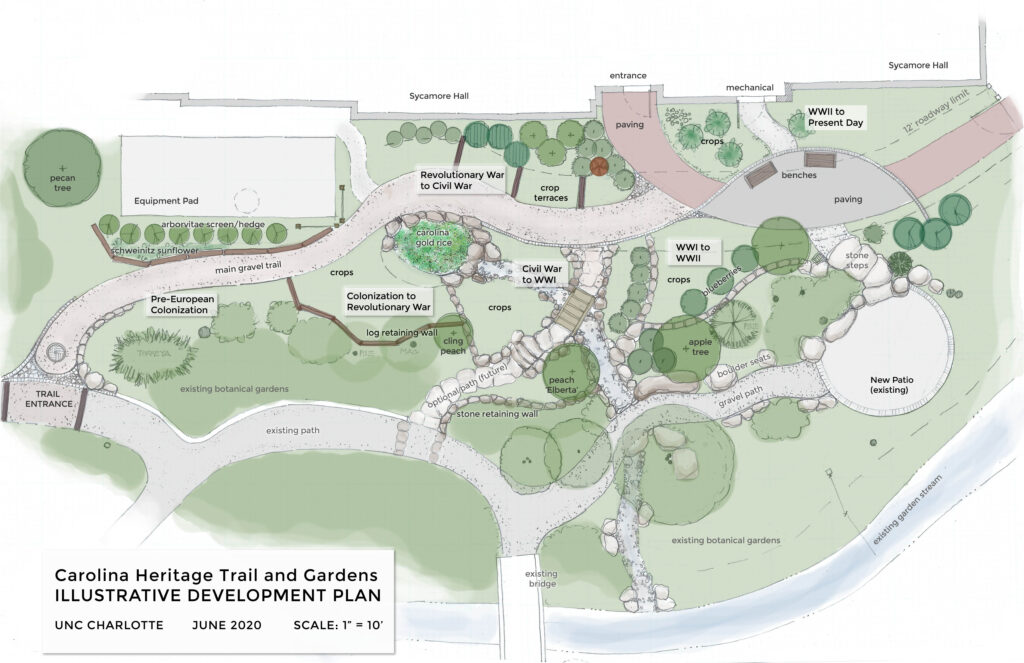 The Carolina Garden Trail is now open to the public! See images from the opening ceremony here: https://gardens.charlotte.edu/new-garden-trail-opened-may-21-2022/
"Walking Through Carolina: An Outdoor Living Exhibit"
Take a walk through the crops of the Carolinas!
Within this Garden, you will find six smaller gardens, each with a story to tell about a period of time in the life of the land we now call North and South Carolina. Over the years, crop selection in the Carolinas evolved for many reasons through different cultures. Indigenous crops such as hickory and lambsquarter fed the people of this region for thousands of years before settlers brought foods from their homelands. When European colonists first settled on the Carolina shores they brought with them European crops, such as wheat, to compliment Native American offerings. Soon afterwards, the arrival of abducted and enslaved Africans led to the introduction of an incredible number of crops and knowledge about how to grow them. Sesame, black-eyed peas, African rice, okra, and many other crops came directly from Africa. Other crops such as peanuts and sweet potatoes, both native to South America and traded Northward, thrived because they were adopted by enslaved Africans. As trade increased with Asian countries in the late 19th century, the crops of the Carolinas became even more diverse with the introduction of Asian rice, soybeans, and a host of others. Crop choice was also governed by the cost of production. Slavery, and later sharecropping, sacrificed human dignity for cheap labor.
Technology also played a big part in crop selection. George Washington Carver, a Black scientist, revolutionized dozens of ways to use crops like peanuts and soybeans, making them much more popular. The discovery of a process to make fertilizers out of the very air we breathe in the early 1900s made crops such as corn more economical to grow. Together, the crops in this Garden tell the vibrant and dynamic story of how tastes, technology, and people have influenced and altered the crops of the Carolinas, and how these plants, in turn, shaped the lives of the people who grew, prepared, and consumed them. We invite you to explore how these crops have been used in differing and similar ways by North and South Carolinians of diverse cultures, generations, and geographies.
Trail Sections (click each link for more information and plant lists):
European Colonization – Revolutionary War
---
See staff and volunteers making the trail below:
About the Trail
UNC Charlotte Botanical Gardens' Historical Trail To Interpret Cultures
North Carolina Humanities Council Supports University Collaborators' Garden
An outdoor, living exhibit is on its way to the UNC Charlotte campus to tell the story of North Carolina through plants and crops crucial to the state's development.
A team composed of the university's Center for the Study of the New South,
Botanical Gardens, and Urban Institute received a grant from the North Carolina Humanities Council for the project, "Walking Through Carolina: An Outdoor Living Exhibit." The project was one of three chosen statewide to receive support through the Council's 2019 large grant program for community based public humanities programs.
By interpreting North Carolina's diverse cultures through a historical garden trail, the UNC Charlotte project will illustrate how plants speak universally. The trail will tell the story of North Carolina through these plants and crops.
"Crops were brought here by many cultures and have evocative stories to
tell," said Ashli Stokes, director of the Center for the Study of the New South. "Visitors will learn how plants were used in different communities, with experts hosting events to encourage intergenerational conversation. By fostering connections between nature and citizenship, our exhibit will spark engagement about being a North Carolinian."
The Trail will provide a type of universal language, allowing people from varying ages and backgrounds to gain knowledge about their shared histories, Stokes said. This will be particularly true as visitors consider how plants have been used in differing – and similar – ways by people of diverse cultures, generations, and geographies.
The university's Urban Institute has moved to the renovated Sycamore building, which is adjacent to the Botanical Gardens and the site of the new trail. Urban Institute Director Jeff Michael noted, "We see the partnership with the Center for the Study of the New South and the Botanical Gardens as an exciting opportunity to expand our mission of helping the public better understand the Charlotte region, with the trail being an exciting way to engage our visitors and partners in understanding the region's cultural and natural heritage."
The Carolina Garden Trail will provide additional green space and opportunities for UNC Charlotte students, faculty, and staff and community members to engage in experiential learning and volunteerism. Students will gain research, writing and hands-on gardening experiences, while professors will be able to incorporate this space and other garden spaces into their teaching, research and community engagement.
Construction has already begun on the trail in the Botanical Gardens. The
team is scheduling community events, starting in 2020. Plans call for regional and national speakers who will interpret the trail through its connections to common foodways. Other plans call for an interactive online map and in-depth information in print and online, such as podcasts and other media platforms.
The North Carolina Humanities Council is a statewide nonprofit and affiliate of the National Endowment for the Humanities. Through grant-making and public humanities programs, the Council serves as an advocate for lifelong learning and thoughtful dialogue about our shared human experience. While UNC Charlotte College of Liberal Arts & Sciences Dean Nancy Gutierrez is the chair elect of the Council Trustees, she was not part of the review process for this grant.
Words: Robin Rothberg
Image: Lynn Roberson
---
Making an Edible South Symposium
In 2020 and 2021, the UNC Charlotte Center for the Study of the New South, the UNC Charlotte Botanical Gardens, and the UNC Charlotte Urban Institute held a Virtual Opening of the Carolina Garden Trail! Before the trail physically opened, we wanted to get people into the mood to discuss food! Part One in October included speakers Chef Kevin Mitchell and Dr. David Shields. Part Two in December featured Adrian Miller. Part Three features Dr. Akin Ogundiran. Find out more about them below!
Making an Edible South Part 1– Kevin Mitchell and Dr. David Shields
Making an Edible South Part 2– Adrian Miller
Making an Edible South Part 3 — Dr. Akin Ogundiran
Links:
nchumanities.org
gardens.uncc.edu
newsouth.uncc.edu
ui.uncc.edu
This project is made possible by NC Humanities.