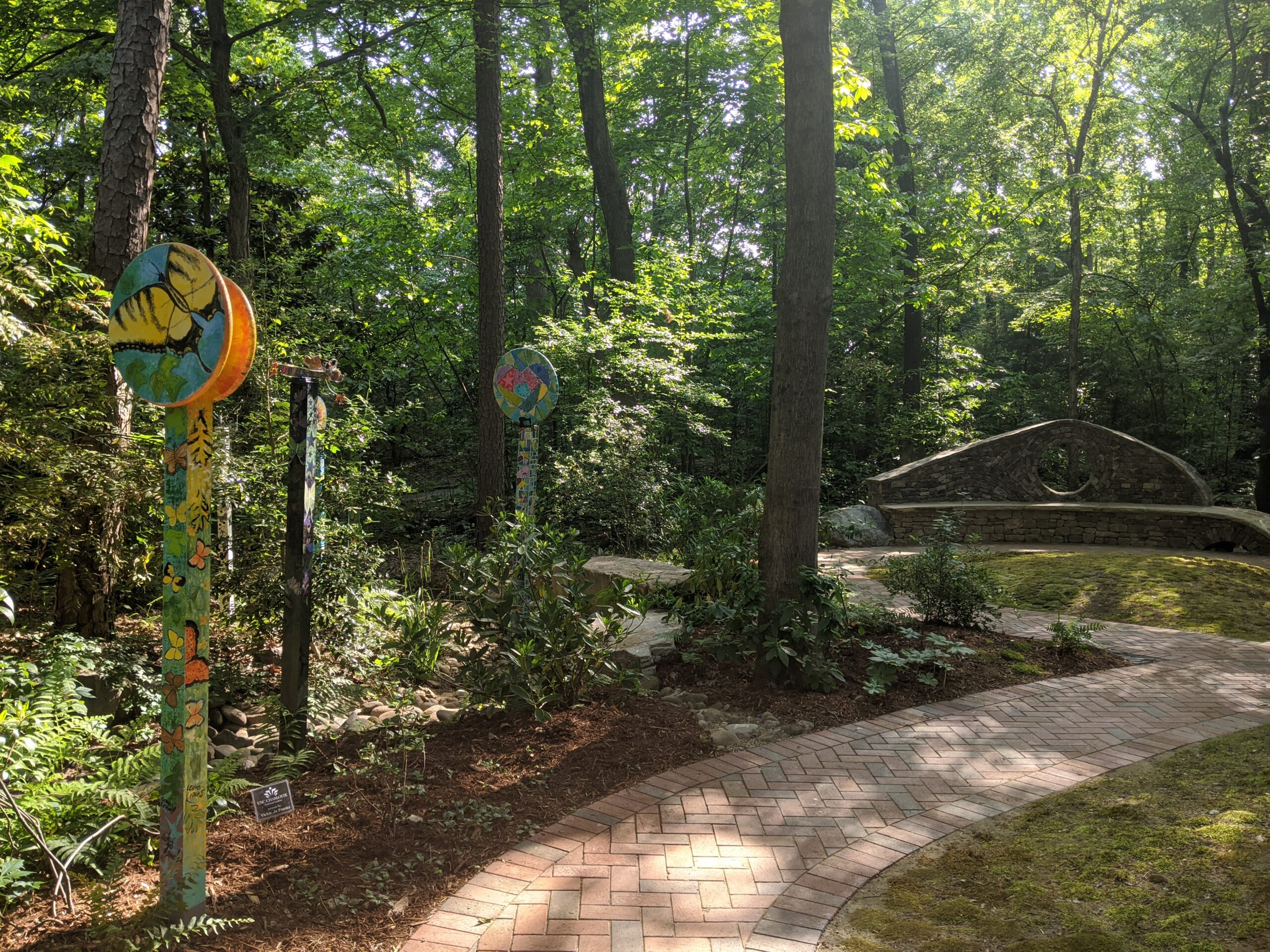 About Polly
Polly Rogers, a Sophomore at UNC Charlotte, tragically passed away in May 2018. She was young, beautiful, and full of life. Polly was a member of Zeta Tau Alpha Sorority at UNC Charlotte and was studying special education in the Cato College of Education. She was warm and very caring to all who had the pleasure of knowing her.
Polly's family and friends, along with the UNC Charlotte community, came together to honor Polly's memory with a sensory garden which is located in the Botanical Gardens at UNC Charlotte.
About the Garden
The Polly Rogers Sensory Garden engages and stimulates all the senses through plantings and interactive elements. Polly's Garden is nestled in a forested portion of the Gardens, adjacent to a stream, yet fully accessible via stone and brick paths. The magical space is contemplative and peaceful, yet, at the same time, colorful, whimsical, and fun, in keeping with Polly's spirit.
It is a safe, therapeutic environment designed for all, regardless of ability. This garden is the perfect way to honor Polly who attended the UNC Charlotte College of Education, and was studying to be a Special Education teacher.
Designed by Landscape Architect Edward Davis, this garden includes interactive musical artwork by Rick Dior, stonework and paths by Johnny Massengale of Ponders, Inc, and nine garden art pieces by Vickie Jo Franks. Bartlett Tree Experts helped to prepare the garden site for planting. Funding for Polly's Garden was provided through the Stanley Smith Horticultural Trust, Keep Charlotte Beautiful, and a crowdfunding effort by the UNC Charlotte Foundation. An outdoor Garden Library was installed by Griffin Lewis, Troop 38, Concord, N.C., as his Eagle Scout Project.
The Garden officially opened to the public on May 22, 2021.
Location: Polly's Garden is located inside of the Van Landingham Glen portion of the UNC Charlotte Botanical Gardens, on UNC Charlotte's Campus. The Garden may be accessed through the trails in the Glen or through the fully wheelchair-accessible Bonnie Cone gated entrance on Mary Alexander Road.
Parking: Free public parking is available in marked spaces adjacent to the McMillan Greenhouse in Lot 16A at 9090 Craver Rd, Charlotte. Additional information regarding parking on weekends and weekdays can be found on our website at https://gardens.uncc.edu/visiting-the-gardens/directions-and-parking/.
Click here to support this special initiative to honor Polly Rogers and help carry on her dream to create a therapeutic environment for children.
Funding partially provided by:
Garden Design
Press coverage
2021:
2019:
http://www.fox46charlotte.com/news/local-news/thousands-raised-for-sensory-garden-in-memory-of-unc-charlotte-student
http://www.wccbcharlotte.com/2019/02/22/broken-yes-ruined-no-father-of-polly-rogers-speaks-out/
Timelapse of Moss Planting