While the Van Landingham Glen is a native woodland, the Susie Harwood Garden features native and non-native plants that grow well within the Carolina Piedmont to inspire your own garden at home. With new hardscaping and several different gardening styles featured, this garden offers a variety of approaches for a Carolina garden.
Mellichamp Native Terrace
---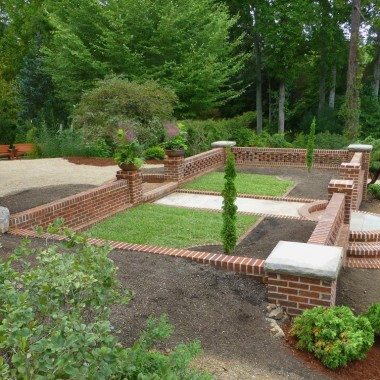 This is the newest addition to the Botanical Gardens. Dr. Mellichamp is the Director Emeritus of the Botanical Gardens. He was also a Professor at UNC Charlotte, author of several botanical books, and the developer of the Mellichamp Sarracenia Hybrids (a pitcher plant). Dr. Mellichamp has the rare distinction of being both a talented Botanist and Horticulturalist. This collection showcases his ability to combine these two talents. Here you will find a meadow that produces gorgeous blooms, and unique hardscaping ideas to inspire your own garden.
Asian Garden
---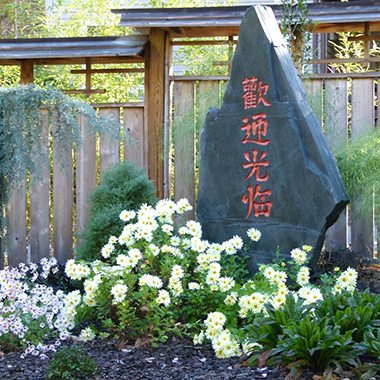 The Asian Garden is a collection that includes some Asian plants as well and non-Asian. This collection is an American interpretation of Asian traditions from various nations, and it was featured in the book Top 100 Japanese Gardens by Ken Brown.
Visitors enjoy the iconic Moon Gate and decorative rocks as well as the large diversity of plants in this collection. Whether you are looking for Asian-influenced inspiration for your own garden, or just looking for a garden collection unlike any other in the area to stroll through, the Asian Garden should be a part of your visit the Botanical Gardens.
Winter Trail
---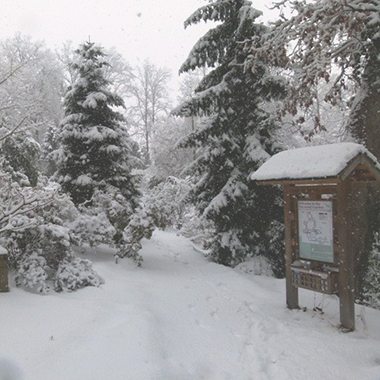 If you think Wintertime gardens are dormant and bleak, you haven't visited our Winter Trail through the Susie Harwood Gardens. We have thoughtfully placed winter-blooming plants throughout the Susie Harwood Garden so that there is something beautiful to visit outdoors throughout the year. As long as you can brave the cold to see them, we have plants that make a wintertime walk a exceptional experience. You may also find this trail to be an inspiration for your own winter garden. These plants defy common expectations and will entice you outdoors in the crisp, cold weather.
Galleries from the Garden
---