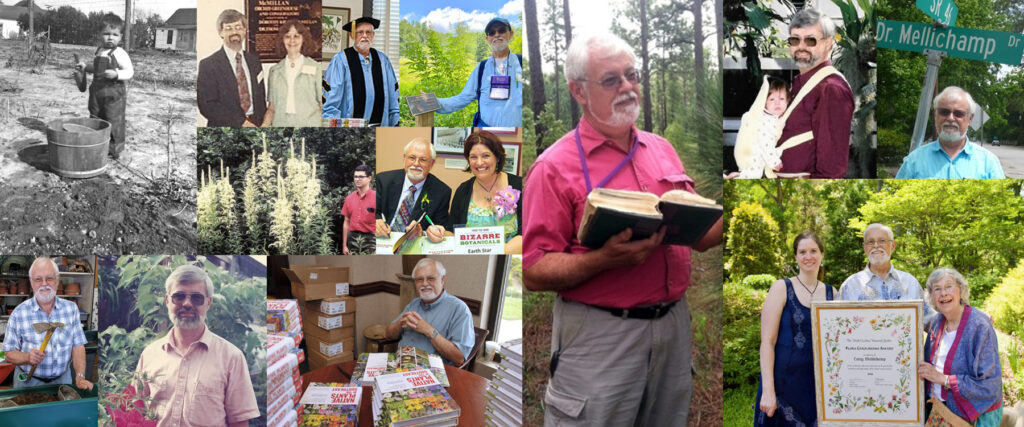 It is with a heavy heart that I announce the passing of our Director Emeritus of the UNC Charlotte Botanical Gardens, Dr. Thomas Lawrence Mellichamp, or, more affectionately, "Dr. M".

Anyone influenced by Dr. M and/or his many works are encouraged to leave a tribute to him on the memorial website: https://link.inmemori.com/mDPxXH. Dr. M's obituary, lovingly penned by Audrey Mellichamp and Paula Gross, can be found here.

A public memorial service will take place in the Gardens on the afternoon of October 30. Details of this service are available here.

I was honored to accept the Directorship of the UNC Charlotte Botanical Gardens soon after Dr. M's retirement. I was privileged to know him well and would like to share just a few of my thoughts about what Dr. M meant to the green heart of UNC Charlotte:

Between the beginning of his Freshman year at UNC Charlotte in 1966 and the day he passed, Dr. M spent a total of six years away from the Gardens, only separating himself from this campus to earn his Master's and Ph.D. in Botany from the University of Michigan. He was unfailingly loyal to the Gardens where, as an undergraduate, he was involved in some of the Garden's first plantings under the direction of his mentor and our first Director, Herbert Hechenbleikner. After over 39 years leading these Gardens, he retired in 2015. After retirement he continued to be involved in the Gardens and regularly taught classes, mentored staff, students, and the community and continued to install numerous plants in the Gardens. Dr. M was a fixture at every plant sale offering valuable information and selling excessive plant materials to people who had no idea they needed such a large collection of flora.

To me, Dr. M was the perfect predecessor. He knew when to give advice, when to allow me to make my own mistakes, and when to encourage. He pushed all of us here at the Gardens to make it a better place for everyone. He was a true botanist's botanist and teacher's teacher. Even after 40 years of teaching, he would still spend hours preparing for a class, collecting samples, and even experimenting with jokes. He cared about his subject and his students and it showed.  I have many memories of Dr. M from the last 8 years, but I thought I'd share the last walk that we had together because it so exemplifies the kind of person he was. In the Glen there is an area in the Southeastern corner where I don't spend much time. I had asked Dr. M if he would walk with Ed (Ed Davis, our horticulturist) and me through this area of the Gardens to identify the more notable plant materials so they aren't overlooked when we develop the area in the future. On July 5, 2022, about 2 months before his passing, we had planned to spend about an hour walking through the area, but that hour soon grew to two, and then three, as we traipsed through old trails, mud pits, and underbrush which exemplifies the ecosystem of the coastal plain. We tasted horse sugar, picked chinkapin, and pulled some weeds. Then we observed a rattan vine strangling another tree, observed some small but exquisite examples of devil's bit, American hazelnut, and fairy bells – and then we really started botanizing! He was a sight to behold. It was as if the plants themselves were radiating energy at some wavelength that only he could absorb and use to glorify the Gardens. After our hike Dr. M joined our greenhouse manager, Tammy Blume, Ed, and me for a lunch at one of his favorite places, R and R barbeque. A love of good (and bad) barbeque was something that Dr. M and I shared, and our deep and passionate conversations about barbeque, appropriate sides for said barbeque, and sweet tea will be sorely missed.

Dr. M devoted his life to bringing the world of plants to people and, as these Gardens move forward, we are devoted to sustaining his rich legacy.
Jeff Gillman, Ph.D. | Director, UNC Charlotte Botanical Gardens